May-2020 (Version 1.4 - Flute)
General Availability
Today, after several weeks of incubating on our test servers, the product team at Advanced Data Machines is proud to announce that the release version 1.4 of our Plug and Play Network Monitoring System as a Service platform NemesisHQ has been promoted to General Availability.
We have been receiving great feedback from our users around the globe and will continue to review and implement suggestions to help improve the product. We truly value this input and will continue to incorporate community requests into our release schedule.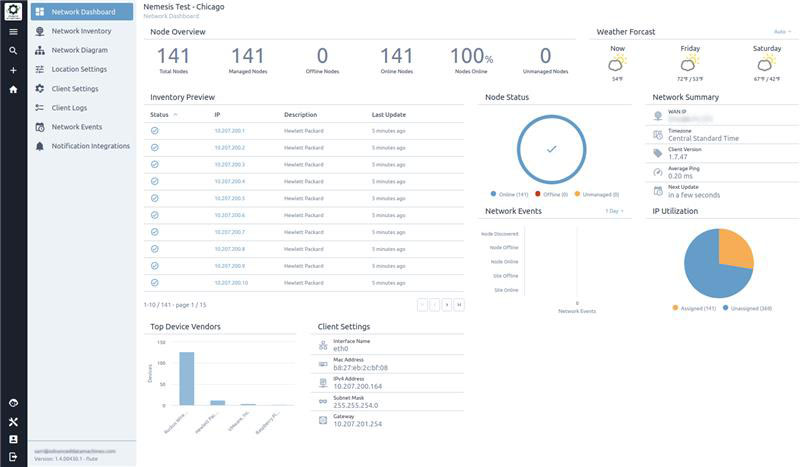 Included Features
Improved notifications and alerts system
Slack notification integration (officially approved and listed in the Slack App Directory)
Microsoft Teams support for notifications (approved by Microsoft)

Enhanced network dashboard widgets; including:

IP Address Allocations and Geolocation
Network Location weather forecast

Mobile friendly UI
Backend changes necessary to support upcoming Multi-Network monitoring capabilities
UI/UX enhancements to device inventory, dashboards, and general navigation
Automatic geolocation for WAN address or addresses will occur on register
Upgrades and improvements to our Kubernetes based cloud infrastructure to handle increased scale, resilience and platform availability


Unique Opportunity
Although the global pandemic has most certainly affected our operations adversely, it has also provided us a unique opportunity to redeploy key staff members away from less lucrative development responsibilities and refocus on R&D that will further advance the NemesisHQ platform.
Like many businesses, we will continue to alter and adapt our strategy and product roadmap accordingly. We have also been most fortunate in managing to retain 100% of our staff and remain committed to building a truly disruptive, intuitive, hardware agnostic, remote network monitoring platform that just about anyone can use.